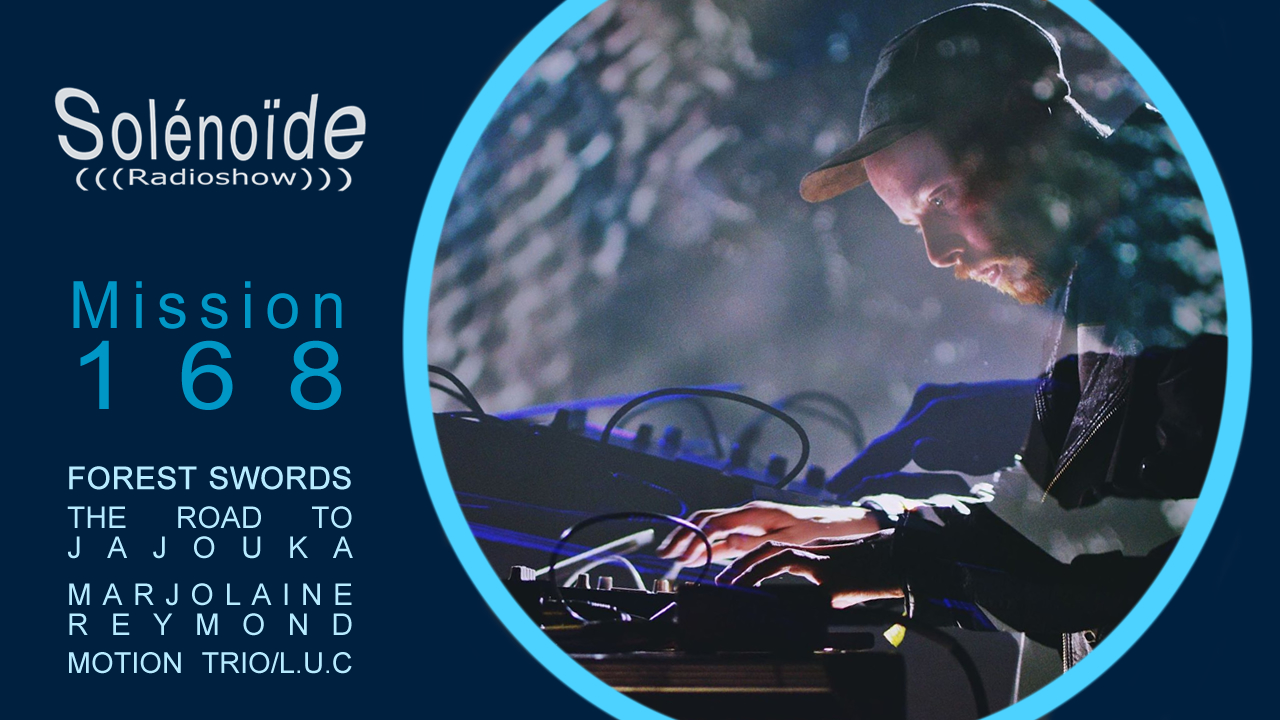 Offrez-vous une échappée vivifiante du côté de Liverpool avec Forest Swords, un génie fou de l'échantillonnage qui nous captivera avec son premier opus 'Engravings' dans lequel instruments réels et sons virtuels s'imbriquent en toute fluidité.

Dans les montagnes du Rif au Maroc, les Masters Musicians of Jajouka entourés de Lee Ranaldo, Bill Laswell, John Zorn, Marc Ribot,… revisiteront une musique ancestrale en la mêlant à de nouvelles sonorités sans rien perdre de la vitalité de ces traditions.

Loin des sentiers musicaux balisés, nous nous rendrons dans un univers sonore où s'enchevêtrent les notes fugueuses d'un vibraphone, les lignes souples d'une contrebasse, les figures virevoltantes d'une batterie et la voix fantasque de Marjolaine Reymond.

Et à Varsovie, nous croiserons les accordéonistes contemporains du Motion Trio et un obscur producteur de hip-hop nommé L.U.C. pour un pacte artistique hors norme mettant l'instrument à soufflet dans tous ses états.
Télécharger Solénoïde - Mission 168
Playliste | Solénoïde - Mission 168
La programmation détaillée
FOREST SWORDS
"The Weight of Gold" + "Friend, You Will Never Learn"
LP "
Engravings
"
(Tri Angle)
> Liverpool, UK
> bandcamp
> forestswords.co.uk
La rubrique 'Radiobalisage' (présentée en début, au milieu et en fin d'émission) est un focus sur un de nos disques favoris du moment.
[02:37>13:55]
THE ROAD TO JAJOUKA
"Djebala Hills" (Falu, John Zorn, Flea and Billy Martin) +
"Ghaita Blues" (Bachir Attar, Billy Martin and Dave Dreiwitz) +
"Al'Aita" (Howard Shore and London Philharmonic Orchestra)"
LP "
A Benefit Album
"
(Howe Records)
> Maroc
> howerecords.com
> jajouka.com
[14:16>24:32]
MARJOLAINE REYMOND
"Purification" + "Cercles"
LP "
To be an Aphrodite or not to be
"
(Cristal Records)
> France
> facebook
> cristalrecords.com
[24:50>30:25]
FOREST SWORDS
"Thor's Stone"
LP "
Engravings
"
(Tri Angle)
> Liverpool, UK
> bandcamp
> forestswords.co.uk
[30:37>36:28]
MOTION TRIO and L.U.C.
"Leaving the World of Chaos" + "Long Way Out"
LP "
City of Harmony
"
(Akordeonus Records)
> Varsovie, Pologne
> akordeonus.com
> facebook.com
[37:12>44:40]
FOREST SWORDS
"An Hour " + "Ljoss"
LP "
Engravings
"
(Tri Angle)
> Liverpool, UK
> bandcamp
> forestswords.co.uk
[45:13>54:33]