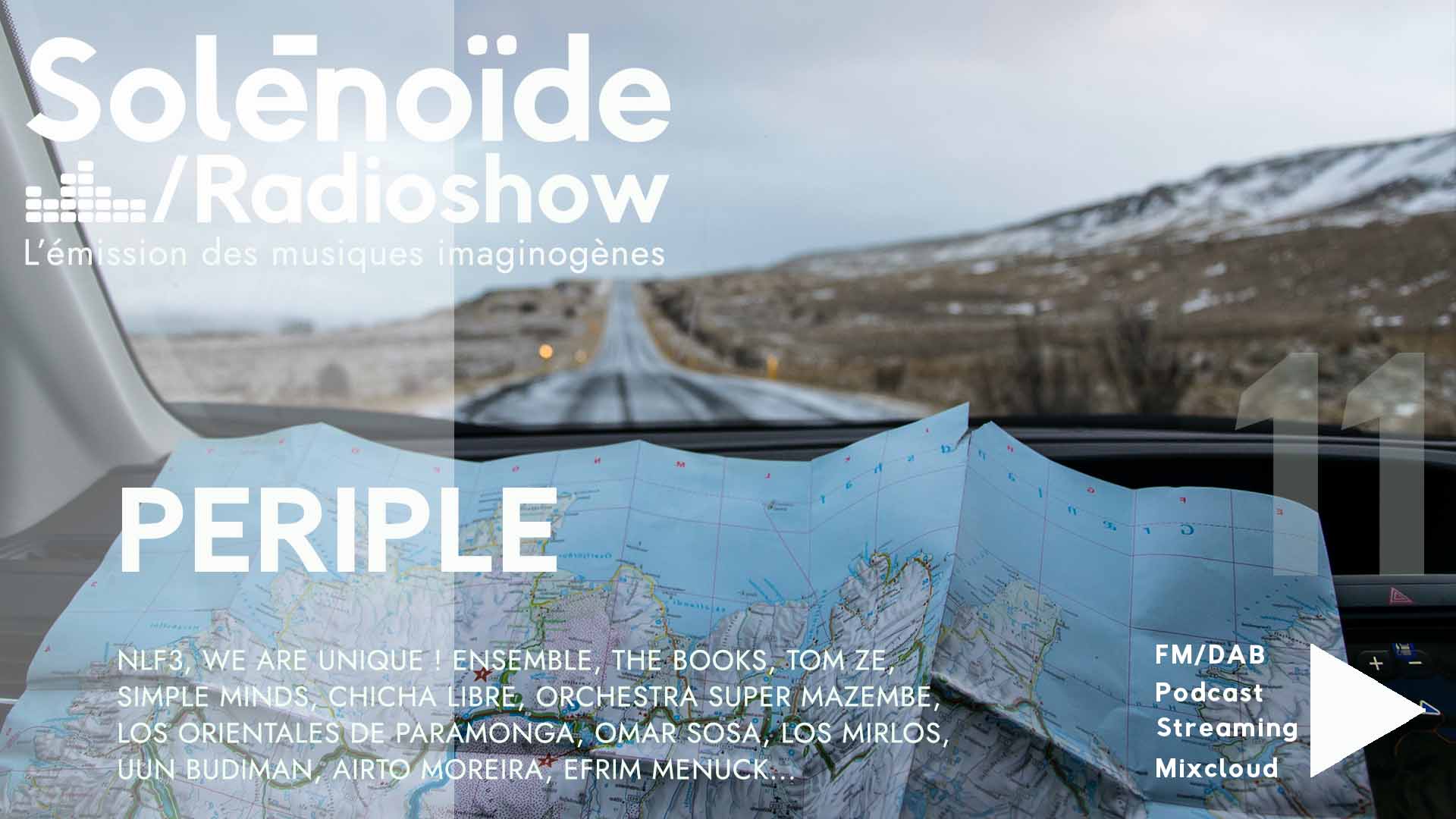 En préférant comme toujours les chemins buissonniers aux routes trop droites et encombrées, ce nouveau périple musical (proposé et présenté par Vincent Arquillière) vous emmènera du Pérou au Kenya, de Cuba au Canada en passant par le Brésil, l'Indonésie, les Etats-Unis, la France et l'Ecosse.
Attention ! Des perturbations sensorielles et auditives seront possibles...
Télécharger Solénoïde - Périple 11
Playliste | Solénoïde - Périple 11
La programmation détaillée
NLF 3
"Shadows my friends"
LP "
Beautiful Is The Way To The World Beyond
"
(Prohibited Records)
> France
>
prohibitedrecords.com
Groupe français aux influences extrêmement diverses,
NLF3
mène depuis une douzaine d'années des expérimentations sur le son et le rythme. Il en résulte une musique luxuriante et toujours inventive.
[03:14>06:20]
WE ARE UNIQUE ! ENSEMBLE
"Detour # 1 (words are poison)"
Compilation "
WE ARE UNIQUE ! ENSEMBLE
"
(We Are Unique ! Records)
> France
>
uniquerecords.org
Une douzaine de musiciens de l'excellent label français
We Are Unique! Records
se sont associés au sein du
We Are Unique! Ensemble
et ont réalisé tout récemment un disque collectif explorant diverses directions musicales, entre rock sous tension et pop en liberté, où personne ne tire la couverture à soi.
[05:49>08:30]
THE BOOKS
"The Future, Wouldn't That Be Nice"
LP "
The Lemon of Pink
"
(Tomlab)
> New York, USA
>
bandcamp
Duo américain discret,
The Books
réalise depuis une dizaine d'années des morceaux aux allures de collages, mêlant sonorités acoustiques et électroniques, voix parlées ou chantées et bruits divers. Cérébrale et déconstruite, leur musique n'oublie pourtant jamais d'être profondément humaine.
[09:26>12:31]
SIMPLE MINDS
"Sound in 70 Cities"
LP "
Sons and Fascination
"
(Virgin Records)
> Ecosse
>
simpleminds.com
Avant de chanter des hymnes héroïques dans les stades, les Ecossais de
Simple Minds
réalisèrent des albums d'un rock arty et expérimental, récemment rassemblés dans un coffret. L'instrumental «
Sound in 70 Cities
», produit par
Steve Hillage
, prouve que le groupe pouvait rester passionnant même en se passant de la voix de
Jim Kerr
.
[12:40>16:40]
CHICHA LIBRE
"La Plata (en mi carrito de lata)
+ "Depresion Tropical"
LP "
Canibalismo
"
(Barbès Records/Crammed Discs)
> Pérou
>
chichalibre.com
Apparue dans les années 60 au Pérou, la chicha mêlait des genres musicaux latins comme la cumbia à des influences rock. Cette musique a été récemment redécouverte, grâce notamment au Français
Olivier Conan
qui, avec sa formation
Chicha Libre
, se produit chaque semaine dans une chaude ambiance au
Barbès
, un bar de Brooklyn dont il est le propriétaire.
[17:10>24:24]
LOS ORIENTALES DE PARAMONGA
"Lobos al escape"
LP "
Cumbia Beat - Vol.1
"
(Vampisoul Records)
> Pérou
>
vampisoul.com
Un groupe de chicha péruvien des années 70 à retrouver sur une formidable compilation 2 CD.
[24:35>27:00]
LOS MIRLOS
"Cabagando con Ella"
LP "
Cumbia Beat - Vol.1
"
(Vampisoul Records)
> Pérou
>
vampisoul.com
Un autre groupe de la même époque.
[27:17>30:03]
OMAR SOSA
"Yeye Moro"
LP "
Afreecanos
"
(World Village)
> Cuba
>
omarsosa.com
Pianiste et compositeur cubain,
Omar Sosa
ne cesse d'explorer les racines du jazz dans ses disques et ses concerts. Dans "
Afreecanos
", sorti en 2008, il faisait dialoguer les traditions et les instruments africains, cubains et brésiliens, unis dans une même quête spirituelle de toute beauté.
[30:57>36:27]
UUN BUDINAM and
JUGAALA GAMELAN ORCHESTRA
"Bendrong Kajawen"
LP "
Banondari
"
(Felmay Records/Orkhêstra)
> Indonésie
>
orkhestra.fr
En Indonésie, la chanteuse
Uun Budiman
, née en 1963, est une grande figure du jaipongan, un style de musique et de danse lancé dans les années 70 et revisitant des formes traditionnelles. En 2004, elle enregistrait un album avec le
Jugala Gamelan Orchestra
, dont le contenu peut paraître de prime abord déconcertant à nos oreilles occidentales, mais qui s'avère vite envoûtant.
[36:59>42:27]
TOM ZE
"Defect 4 : Emere"
LP "
Fabrication Defect
"
(Warner Bros/Wea)
> Brésil
>
luakabop.com
Tom Zé
n'est pas le plus connu des musiciens brésiliens ayant lancé la vague tropicaliste à la fin des années 60, mais c'est sans doute l'un des plus attachants. Après une longue traversée du désert, cet artiste iconoclaste et inclassable fut redécouvert à la fin des années 80 par
David Byrne
, l'ex-chanteur des
Talking Heads
, qui le signa sur son label
Luaka Bop
. Tom Zé a depuis tourné dans le monde entier et a sorti plusieurs albums, dont l'excellent "
Fabrication Defect
" en 1998. Un disque sur lequel il théorise, de façon ludique, l'intégration de bruits du quotidien dans la musique.
[43:59>45:53]
AIRTO MOREIRA
"Xibaba"
Compilation "
Bossa Jazz
"
(Soul Jazz Records)
> Brésil
>
souljazzrecords.co.uk
Un acteur majeur de la samba jazz et de la fusion : le batteur et percussionniste
Airto Moreira
, maître du pandeiro – une sorte de tambourin. Ce morceau de 1970 bénéficie de la présence de
Ron Carter
à la contrebasse. Encore une remarquable anthologie du label
SoulJazz
.
[45:50>50:22]
ORCHESTRA SUPER MAZEMBE
"Kassongo"
LP "
Giants of Esat Africa
"
(Earthworks Records)
> Kenya
>
worldvillagemusic.com
La République démocratique du Congo s'appelait encore le Zaïre quand s'y forma l'Orchestra Super Mazembe. Mais c'est au Kenya, où il s'était installé, que le groupe trouva le succès au milieu des années 70, obtenant son premier tube en 1977 avec l'irrésistible "Kassongo".
[50:29>53:50]
EFRIM MENUCK
"August Four, Year-of-Our-Lord blues"
LP "
Plays "High Gospel
"
(Constellation Records)
> Canada
>
cstrecords.com
Efrim Menuck, membre de Godspeed You ! Black Emperor et Silver Mount Zion, qui s'offrait l'année dernière une escapade en solo sous le titre « High Gospel ». La guitare spectrale de ce morceau n'est pas sans rappeler la bande-son de "Dead Man" par Neil Young.
[54:00>55:22]