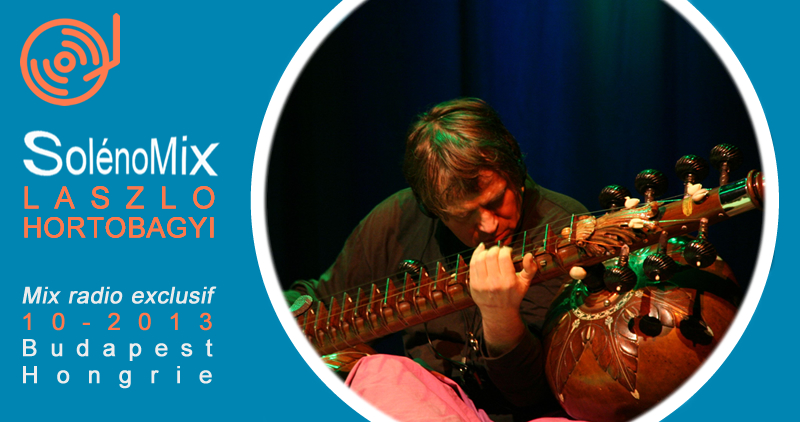 Participez à une odyssée musicale aux confins des musiques ambient, sacrées et psychédéliques en écoutant un mix exclusif conçu et mis en son par Laszlo Hortobagyi !
Télécharger SolénoMix Laszlo Hortobagyi
Playliste | SolénoMix Laslo Hortobagyi
Solenoide Mix of eL-Horto Roots.Vol.I.
at the Gayan Uttejak Society by Laszlo Hortobagyi.
Budapest. 28.October 2013.
The Sources:
01 -
The Shield
[ Tarang mix ] (from The Book Of Taliesyn by Deep Purple, 1968)
02 -
Careful With That Axe, Eugene
[ Zeitgeist mix ] (from Ummagumma by Pink Floyd, 1969)
03 -
Timesteps
[ Labyrinth mix ] (from Walter Carlos' Clockwork Orange, 1972)
04 -
In A Gadda Da Vida
[ Walaam mix ] (from Iron Butterfly-Doug Ingle, 1968)
05 -
Lotus Feet
[ Rudra Path mix ] (from Inner Worlds by J.McLaughlin, 1975)
06 -
Stalker
[ Sybilla mix ] (from A.Tarkovszkij's film, music by Eduard Artyemjev, 1979)
07 -
Nasty Dogs & Funky Kings
[ Alienplanet mix ] (from Fanango by ZZ Top, 1975)
08 -
Moondogs Madrigal
[ Chrysostom mix ] (from Moondogs,1970)
09 -
Chakmakchiphon
[ Baghdad mix ] (from old vinyl from Iraq, 1953)
10 -
Ricochet
[ Cathedral mix ] [ by Tangerine Dream, 1975)
11 -
Cuando se entere el sultan
[ Flamengoa mix ] (from El Cante de Fernanda y Bernarda de Utrera (1970)
12 -
Nightmare Patrol
[ Lais-sez mix ] (by Brand X - Livestock, 1977)
13 -
Dilbary
[ Selim-satin mix ] (by Monadjat Yulchieva, 1998)
14 -
Moon in June
[ Polyander mix ] (from Soft Machine - Third, 1970)
15 -
Complicated Game
[ Zeitsinn mix ) (from XTC - Drums and Wires, 1979)
16 -
Country Lane
[ Cathomantra mix ] (from Walter Carlos' Clockwork Orange, 1972)
17 -
Baby I Love You So
( Frozen-bardo mix ] (by H. Schwaby of Colourbox, 1986)
18 -
I am Broken
[ Lullaby mix ] (Pantera - Far Beyond Driven, 1994)
19 -
Crockett's Theme
[ Ben Liebrand mix ] (Jan Hammer,1987)
20 -
De Wereld Vergaat
[ Vocapella mix ] ] (Lais, 1998)
21 -
Jackal's Theme
[ Ysoire mix ) ] (Carter Burwell, 1997)
22 -
Ravi Shankar
[ Dubsenia mix ] (Dub Syndicate - Tunes from the Missing Channel,1997)
23 -
Worlock
[ Mundus de-facto mix ] (Skinny Puppy, 1990)
24 -
Frozen
[ Mohamadonna mix ] ( Patrick Leonard - Ray of Light, 1998)
25 -
Suffering Brings Wisdom
[ Helloratio mix ] (Crowbar - Sever the Wicked Hand, 2011)
26 -
Dulce-somnium
[ Eartheart mix ] ( by eL-Horto & dMitry of Ukraine, 2012)
27 -
For an angel
[ Alwani mix ] (Paul van Dyk, 2009)
28 -
Ildenor
[ Ego-sum mix ] (from eL-Horto - Gabevaildernor, 2010)
Liens:
Gáyan Uttejak Orchestra