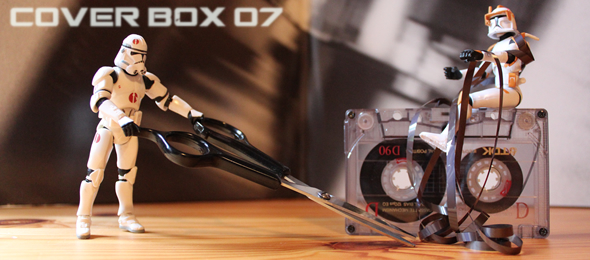 Elaborée à partir d'un panel hétéroclite de morceaux rares, cette émission sera le théâtre de multiples réappropriations ambitieuses et inattendues. Ainsi de la pop new wave rhabillée aux couleurs du tango, du reggae encodé en format free jazz, du heavy metal transmuté en ballade celtique, voilà quelques unes des surprises que vous réserve cette nouvelle 'Cover Box' !
Playliste de l'émission:
TANGHETTO
"Sweet Dreams" - CD "
El Miedo a la Libertad
" (Constitution Music) [3:13>6:48]
> Eurythmics
PSYCHIC TV
"Good Vibrations" - CD "
Good Vibrations EP
" (Temple Records) [6:58>13:55]
> The Beach Boys
CHRISTIAN ESCOUDE
"Je me suis fait tout petit" - CD "
Au bois de mon coeur
" (Emarcy) [14:03>17:21]
> Georges Brassens
THE POLKA FLOYD SHOW
"See Emily Play" - CD "
The Polka Floyd Show
" (Static Records) [17:36>20:44]
> Pink Floyd
THE BAD PLUS
"We are the Champions" - CD "
Blunt Object : live in Tokyo
" (Columbia) [21:10>26:01]
> Queen
THE COOL RUNNINGS ORCHESTRA
"Is This Love" (unplugged) - CD "
Tribute to Marley
" (Budapest Music Center) [27:23>31:36]
> Bob Marley
THE BOYS OF COUNTRY NASHVILLE
"Enter Sandman"
[31:37>37:00]
> Metallica
JOYCE
"Hi-Ho" - CD "
Disney Adventures in Bossa Nova
" (Disney Records) [37:01>38:25]
> Soundtrack "Blanche Neige et les 7 nains"
SENOR COCONUT & HIS ORCHESTRA
"Around the World" - CD "
Around the World
" (New State Recordings) [38:26>41:09]
> Daft Punk
MEEKS
"Strawberry Fields Forever" - CD "
Beatless, Shoegazer Cover of the Beatles
" (SCM Music
) [41:10>46:23]
> The Beatles
Solénoïde, émission de musiques 'imaginogènes', diffusée sur 19 radios (France, Belgique, Italie) :
HDR Rouen, C'ROCK Radio Vienne, L'EKO DES GARRIGUES Montpellier, Radio CAMPUS Clermont-Ferrand , Radio CAMPUS Tours, RTF Limoges, YOUFM Mons (Belgique), L'AUTRE RADIO Château-Gontier, FMR Toulouse, EuradioNantes, Radio RESONANCE Bourges, Radio PRIMITIVE Reims, Radio PANIK Bruxelles (Belgique), Radio BALLADE Espéraza, Radio TANDEM Bolzano (Italie), STUDIO ZEF Blois, Radio COQUELICOT Val de Sioule, Radio ZIGZAG Pays de Romans/Pays de l'Hermitage, BULLE FM
Agen