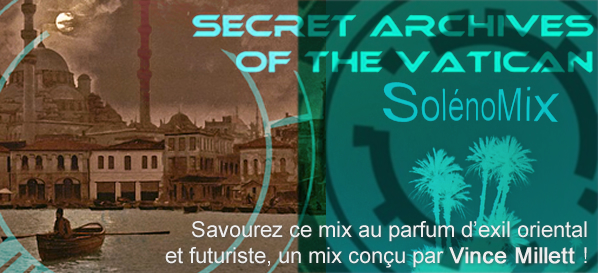 Après Smadj, c'est au tour d'un autre champion du DJing transglobal de se produire en SolénoMix sur nos ondes :
SECRET ARCHIVES OF THE VATICAN
. Une formation londonienne pratiquant un savant alliage d'éléments électroniques et mystiques mis au service d'époustouflantes bande-sons orientalistes ! Un rendez-vous obligé pour fans de
Mercan Dede
,
Bill Laswell
,
Fedayi Pacha
et consor...
Playliste du SolénoMix SECRET ARCHIVES OF THE VATICAN
The Feeling Begins
>
Peter Gabriel
5 Prayers of Afghan Women
>
Fun-Da-Mental
The Empty Quarter
>
Secret Archives of the Vatican
Mantra (Doors of Perception edit)
>
Material
Lotus
>
Liquid Stranger
Saracen (Eye of Horus vocal mix)
> >
Jef Stott
The Fall of the First Ember (to the air)
>
Secret Archives of the Vatican
Rises in the East
>
Kalya Scintilla
The Silk Road
>
Celt Islam
Mountains
>
AR Rahman
Liens:
secretarchivesofthevatican.wordpress
facebook.com/SecretArchives
brokendrumrecords.com
ALIGRE FM Paris, HDR Rouen, C'ROCK Radio Vienne, L'EKO DES GARRIGUES Montpellier, Radio CAMPUS Clermont-Ferrand , Radio CAMPUS Tours, RTF Limoges, YOUFM Mons (Belgique), L'AUTRE RADIO Château-Gontier, FMR Toulouse, EuradioNantes, Radio RESONANCE Bourges, Radio PRIMITIVE Reims, Radio PANIK Bruxelles (Belgique), Radio BALLADE Espéraza, Radio TANDEM Bolzano (Italie), STUDIO ZEF Blois, Radio COQUELICOT Val de Sioule.